Everyone's favorite breakfast buddies through the years
1927
"You've got something there!"
W.K. Kellogg pours milk over a brand-new, toasted rice cereal from the Kellogg test kitchen, and gives it a try. "You've got something there!" he exclaims.
1928
Ta-DA!
Kellogg's Rice Krispies® Cereal first appears on store shelves. Everyone loved the noise the cereal made in milk.
1929
The words Snap! Crackle! Pop!® first appear in a print ad.
1932
The words Snap! Crackle! Pop!® first appear on a box of Kellogg's Rice Krispies® Cereal.
1933
In a Snap™, a star was born. A tiny gnome wearing a baker's hat and carrying a spoon — the earliest version of Snap™ — appears on the side of the cereal box.
1933
Inspired by a Rice Krispies® radio commercial, artist Vernon Grant creates the characters Snap™, Crackle™ and Pop™. They first appear in ads and posters.
1941
TOGETHER AT LAST
Crackle™ and Pop™ join Snap™ on the Rice Krispies® cereal box for the very first time.
1949
The boys get their first major makeover, making their features younger, their colors brighter and their hats smaller.
1951
"arroz TOSTADITO"
The boys help bring Rice Krispies® Toasted Rice Cereal — or "arroz tostadito" — to Spanish-speaking countries.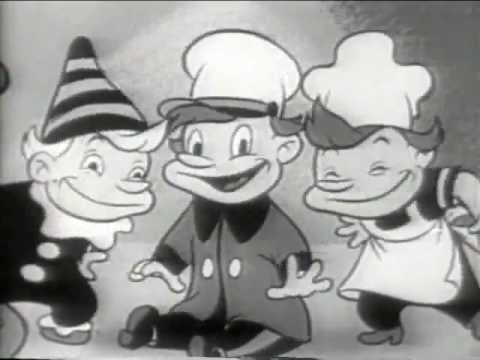 1955
LIGHTS, CAMERA, ACTION!
Snap™, Crackle™ and Pop™ make their TV debut. This is one of their very first commercials.
1962
The boys during their SUPER-ROSY-CHEEK-PHASE.
1979
Snap™, Crackle™ and Pop™ have yet another makeover. This time, it's their eyes that change the most, becoming rounder and closer together.
1983
First T-shirt
Kellogg begins licensing its characters, making the guys available for all kinds of merchandise. The first licensed item was a T-shirt featuring Snap™, Crackle™, Pop™ and Toucan Sam™.
1984
The guys lose their black pants and big belt buckles for more colorful clothing and kerchiefs.
1991
Snap™, Crackle™ and Pop™ make a fashion statement – that pants are the new shoes.
2008
The boys help Rice Krispies® Cereal celebrate its 80th anniversary with a new look for the digital age.
2014
Start the day with delicious strawberry flavor!
2019
Delicious Rice Krispies Treats bites covered in yummy goodness.